13th IAPR International Workshop on Document Analysis Systems
24-27 April
Vienna, Austria
About
DAS 2018 is the 13th edition of the 100% participation single-track workshop focusing on system-level issues and approaches in document analysis and recognition. The workshop comprises invited speaker presentations, oral, poster, tutorial sessions, as well as working group discussions. The Conference Publishing Services (CPS) will publish the workshop proceedings.
DAS 2018 will be organized at TU Wien (Vienna University of Technology), in the heart of Vienna's city center, which places the attendees within walking distance of a large variety of world-famous historical and cultural attractions.
DAS 2018 will include both long and short papers, posters and demonstrations of working or prototype systems. All submissions will undergo a rigorous single blind review process with a minimum of 3 reviews considering the originality of work, the quality of research or analysis of experience, the relevance to document analysis systems, and quality of presentation.
Keynotes
Lawrence O'Gorman
Nokia Bell Labs, Murray Hill, NJ USA
is a Fellow at Nokia Bell Labs Research in Murray Hill, NJ. He works in the areas of video analysis and multimedia signal processing. Previously he was Chief Scientist at Veridicom, a biometric company, spun off from Lucent, and before that a Distinguished Member of Technical Staff at Bell Labs. He has taught in the area of multimedia security at Cooper Union and NYU/Poly. His video analytics work is the basis of the "Pixelpalooza" exhibit at the Liberty Science Center in New Jersey, and other public art and game exhibits.
He has published over 70 technical papers, 8 book chapters, holds over 25 patents, and is co-author of the books, "Practical Algorithms for Image Analysis" published by Cambridge University Press, and "Document Image Processing" published by IEEE Press. He is a Fellow of the IEEE and of the IAPR. In 1996, he won the Best Industrial Paper Award at the ICPR and an R&D 100 Award for one of "the top 100 innovative technologies of that year." He has been on the editorial boards of 4 journals, and has served on US government committees to NIST, NSF, NIJ, and NAE, and to France's INRIA.
He received the B.A.Sc., M.S., and Ph.D. degrees in electrical engineering from the University of Ottawa, University of Washington, and Carnegie Mellon University respectively.
From Digital Libraries to Kind Cameras
Making Sense of Multimedia Signals While (Unsuccessfully) Avoiding Security
In the last 30 years, we have made great strides in computer analysis and understanding of signals from images to documents to video. In this talk, I describe projects whose initial objective was a useful and disruptive - and sometimes fun - multimedia recognition system, but for which security issues were discovered that complicated design and usability.
The first project involves document layout analysis methods to facilitate one of the first digital libraries, Bell Labs RightPages. However, publishers would not offer material through the system until we developed watermarking methods to assert their ownership. The second project is a voice-only system for healthcare workers to enable hands-free communications. But the system was impractical without authentication: how do you securely speak a password? The third project was for security purposes only, to design a counterfeit-resistant photo-ID card that can be retrofited to current non-secure cards, printed on paper, and even duplicated. We accomplished this in the early days of public key cryptography. Finally I will describe current work in "Kind Cameras", for which video analytics methods have been developed to extend past security cameras to interactive cameras for fun and art.
Rolf Ingold
DIVA Group, University of Fribourg, Switzerland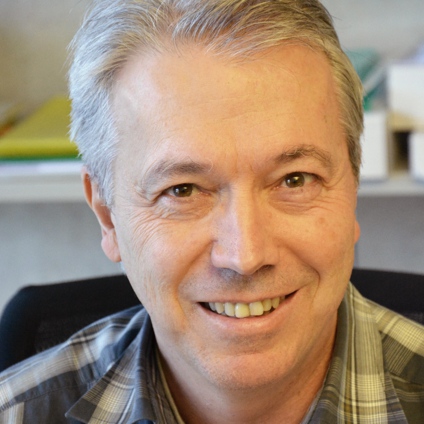 is full professor of computer science at the University of Fribourg, in Switzerland. He graduated in mathematics and received a PhD degree in Computer Science from the Swiss Federal Institute of Technology Lausanne (EPFL). He is an international expert in the field of document analysis and modelling. Since 2008, he is Chair of the Swiss Pattern Recognition Association and member of the Governing Board of the International Association for Pattern Recognition (IAPR). At National level, he was highly involved in the Swiss National Center of Competence on Interactive Multimodal Information Management. He is also member of the Swiss Academy of Science and Technology.
His expertise covers several aspects of multimodal signal processing, pattern recognition, and machine learning, with applications in image and sound analysis, biometry, and gesture recognition. During the last fifteen years, he concentrated his research on historical document analysis and cultural heritage preservation. Since 2009, he is leading a series of research projects funded by the Swiss National Foundation on historical document analysis. In 2011, he received the James A. Lindner price awarded by the International Association of Sound and Audiovisual Archives (IASA) for "VisualAudio", a solution to recover sound from degraded sound tracks.
Lessons from 10 Years of Experience on Historical Document Analysis
Libraries and archives all around the world continuously increase their efforts in digitizing historical manuscripts. Integrating such manuscripts into digital libraries requires meaningful information for indexing. To support the extraction of the needed meta-information or to provide full-text transcription, advanced pattern recognition and machine learning methods are required. This talk will describe the outcome of a series of "HisDoc" research projects funded by the Swiss National Foundation, covering pioneering attempts to study the whole processing chain from layout analysis to information retrieval of historical manuscripts, including script analysis, word spotting and handwriting recognition. This description will be complemented with an overview of other related research projects, in order to convey the current state of the art in the field and outline future trends.
Attendee Information
You can enjoy some wine or beer at the welcome attendance which takes place at TUtheSky.
Registration Information
All participants need to register in order to attend the workshop. Admission to the workshop is not allowed without registration. Registration for the workshop, the tutorials and the social events is available online.
In order to correctly organize the workshop (social events, goodies, ...), the regular registration  process will be close after Monday 16th April 2018. The registration fee (both regular and student) includes admission to the workshop, coffee-breaks, lunch, USB proceedings, banquet and welcome reception.
In order to include the papers in the proceedings, at least one author of each paper must complete the registration form by February 16th, 2018. Student participants presenting more than one paper in the workshop are required to pay the regular registration fee (not student fee). According to IAPR's policy, should an author have more than one paper accepted, only one registration is required for publication although other authors are encouraged to register and participate in the workshop.
Each paper (oral or poster) must be presented by an author at the workshop. Failure to present a paper during the workshop will likely result in withdrawal of the paper from the conference digital library (Xplore).
Registration Fees
For early planning purposes, all attendees are encouraged to complete
online registration
before February 2, 2018, to enjoy the early bird discount registration fee.
|   | Student | IAPR | Standard |
| --- | --- | --- | --- |
| Early Bird* | 400€ | 550€ | 600€ |
| Regular | 450€ | 600€ | 650€ |
* until Feb 2, 2018
Social Events
The welcome reception takes place at TUtheSky (see picture above) which is in the heart of Vienna. The conference banquet will be held at the city hall (details will follow soon).  Don't miss the announcement of Best Paper and Best Student Paper winners and join your DAS colleagues for a dinner of wining, dining, and shining examples of research quality.
Discussion Groups
According to a long-standing tradition at the DAS workshops, we will hold small-group discussions on topics of special interest to attendees. It is a nice opportunity to meet other researchers and discuss on relevant topics for the community. Everyone is welcome to participate in the discussions. Moreover, each group needs a moderator and a scribe. Their roles are:
The moderator encourages everyone to speak and helps to focus and clarify the discussion.
The scribe takes written notes of the discussion and summarizes the results in a plenary session.
The moderator and the scribe will co-author a short summary report after the workshop is over, which will be posted to the workshop website and at the TC-11 website The names of the moderators and scribes will be also listed at the website.
Please fill this form choosing the topics of your interest, and feel free to propose some.
We are looking forward to your participation! Please contact the Discussion Groups coordinators with your suggestions and ideas:
Committee
General Chairs
Robert Sablatnig (Austria)
Florian Kleber (Austria)
Publicity Chairs
Markus Diem (Austria)
David Doermann (USA)
Gernot A. Fink (Germany)
Discussion Group Chairs
Alicia Fornés (Spain)
Marcus Liwicki (Germany)
Publication Chair
Stefan Pletschacher (UK)
Program Chairs
Basilis Gatos (Greece)
Koichi Kise (Japan)
Dan Lopresti (USA)
Jean-Marc Ogier (France)
Tutorial Chairs
Michael Blumenstein (Australia)
Stefan Fiel (Austria)
Cheng-Lin Liu (China)
 
Program Committee
Adel Alimi (Germany)
Apostolos Antonacopoulos (UK)
Elisa H. Barney Smith (USA)
Abdel Belaid (France)
Andreas Dengel (Germany)
Rafael Dueire Lins (Brazil)
Véronique Eglin (France)
Jihad El-Sana (Isreal)
Andreas Fischer (Switzerland)
Alicia Fornés (Spain)
Volkmar Frinken (USA)
Utpal Garain (India)
Venu Govindaraju (USA)
Masakazu Iwamura (Japan)
Dimosthenis Karatzas (Spain)
Bart Lamiroy (France)
Laurence Likforman-Sulem (France)
Josep LLadós (Spain)
Program Committee (continued)
R. Manmatha (USA)
Simone Marinai (Italy)
Guenter Muehlberger (Austria)
Masaki Nakagawa (Japan)
Premkumar Natarajan (USA)
Umapada Pal (India)
Shivakumara Palaiahnakote (Malaysia)
Thierry Paquet (France)
Vincent Poulain D'Andecy (France)
Jean-Yves Ramel (France)
Marcal Rusinol (Spain)
Marc-Peter Schambach (Germany)
Srirangaraj Setlur (USA)
Faisal Shafait (Pakistan)
Karl Tombre (France)
Seiichi Uchida (Japan)
Berrin Yanikoglu (Turkey)
Richard Zanibbi (USA)
Travel Information
If you fly to Vienna, you will arrive at Vienna International Airport (VIE), located at the city border about 20 minutes by public transportation. Conference attendees can take the City Airport Train (CAT), which directly connects the airport with the city. Alternatively you can take the bus (Vienna AirportLines) to Schwedenplatz or the railway S7. Vienna has a very dense and efficient public transportation network, and it is therefore easy to travel between the conference site, hotels and social venues; attendees will not need to rent a car. The network consists of five underground lines, trains, trams, and buses and runs around the clock. The central part of the city is relatively compact so you can reach most of Vienna's attractions by foot.
Visa support letters
For those of you who require a visa support letter to attend the conference, please send us an e-mail: das2018@caa.tuwien.ac.at.
Austrian Airlines is Official Carrier of DAS 2018
If you book your flights to DAS 2018 online at www.austrian.com you can save 15% on all applicable fares. To do so, simply enter the following code in the eVoucher field on the Austrian homepage booking engine:
Code: DAS18
Booking period: now until April 27th, 2018
Valid for flights to Vienna and return as of April 17th, 2018 until Mai 4th, 2018 (final date for return flight) on flights operated by Austrian Airlines.
Book your flights here!
Travelling by train to Vienna
Vienna has direct connections to most European cities nearby, including Bratislava, Munich, Frankfurt, Budapest, Hamburg, Prague, Warsaw and overnight trains to Berlin, Venice, Rome, Warsaw and Zürich. Most long-distance trains run from the Hauptbahnhof (main station); many of these trains also serve Meidling. Some semi-fast services towards Salzburg start and end at Westbahnhof. Don't confuse the main station (Hauptbahnhof) with the central station (Wien Mitte); the latter is only served by local and regional trains.
Travelling within Vienna
Vienna has an extensive public transport system (www.wienerlinien.at) that consists of five underground (U-Bahn) lines (U1, U2, U3, U4 and U6), trams and buses, which makes it easy to reach the conference venue, even if you are staying on the other side of the city. A single trip costs €2.20 and is valid on any reasonable route to your destination; changes are permitted. If you are going to spend time sightseeing or need to commute from your hotel, consider buying a pass. These are available for 24 hours (€7.60), 48 hours (€13.30) or 72 hours (€16.50). A weekly pass (€16.20) is even better value, but is only valid from Monday midnight (00:00hrs) to the following Monday, 9am. In common with many other European cities, Vienna's public transport uses the honour system; the penalty for not having a valid ticket is €103. Note that many tickets require validation (stamping) before entering the platform; these are marked "Bitte entwerten/Please validate".
Transfer from the airport to the city center
The Vienna International Airport (VIE) in Schwechat is about 20 km away in the southeast of Vienna. Taking a taxi directly at the airport is rather expensive (about €45), but you can get better value by pre-booking at airportdriver.at, flughafentaxi-wien.at (cost around €30), or myDriver.
Express trains (Railjet and Intercity) run at half-hourly intervals from the airport to the Hauptbahnhof (main railway station, line U1) and Meidling (U6) stations and take 15-18 minutes. If you are staying near the conference venue, you will probably want to use this service. A stopping service (S7) also runs across the city via Wien Mitte (Landstraße U3, U4), Praterstern (U1, U2) and Handelskai (U6), and connects with all underground lines; the travelling time to Wien Mitte is approx. 24 minutes. Regardless of which route you take, the fare within the integrated tariff system is €3.90 and this includes onward travel via subway, tram, bus, etc. to your destination in Vienna. If you already have a pass for Vienna, you need to purchase an extension ticket from the city boundary (ab Stadtgrenze, €2.20).
More information on the railway connections, including the timetable, is available in the following leaflet from the Austrial Federal Railways (ÖBB).
Premium services also include the City Airport Train (CAT, €12) and the Vienna Airport Lines buses (€8). The CAT runs non-stop to Wien Mitte, where it terminates; the main advantage is being able to check-in luggage at the railway station (select airlines only) on the day of your return flight. Departures are at 06 and 36 past the hour in both directions. Note that tickets purchased for these services are not valid for onward travel and are also not valid on the regular trains if you miss your connection.